We're a little partial to this October birthstone (it's our founder's birthday this month!), but it's easy to see why this fiery stone sends people's hearts aflutter.
You know how rainbows are a) amazing and b) reflections of light passing through raindrops? Opals are similar to that but even more incredible because you can WEAR it.
Though found all over Earth, most precious opals are from the sedimentary rocks of the desert-like red sands of Australia. Over the last few millennia, ancient seas and rainstorms carried water and silica into the rocks below. Over time, the water evaporated, and the silica that remained formed stunning opals nestled against the rock.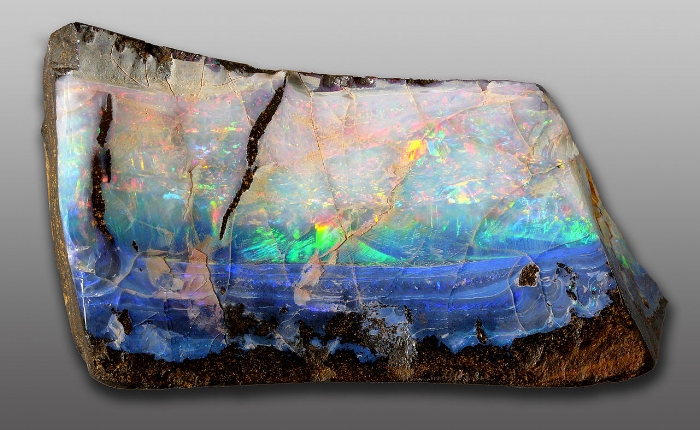 Raw precious opal. Can you imagine stumbling onto this on a hike?
Opals capture their iridescent magic within the the tiny amorphous spheres of silica. Arranging themselves in a grid (side tangent: isn't it mind blowing when organic materials follow tight geometric patterns?), light passes through the spaces in between spheres.  The light is bent and reflected back through the grid to the viewer, creating the hallmark kinetic, fiery flashes of colored light- called "play-of-color" in precious opals.
A resilient, yet softer stone, opals are perfectly suited for special occasion jewelry.  While we adore these gems for earrings, pendants and cocktail rings, we don't necessarily recommend them for engagement rings.  This softer stone can scratch easily, so it's a little risky for everyday wear. We recommend keeping your stones sparkling by giving them an occasional day off so they can enjoy their own R&R.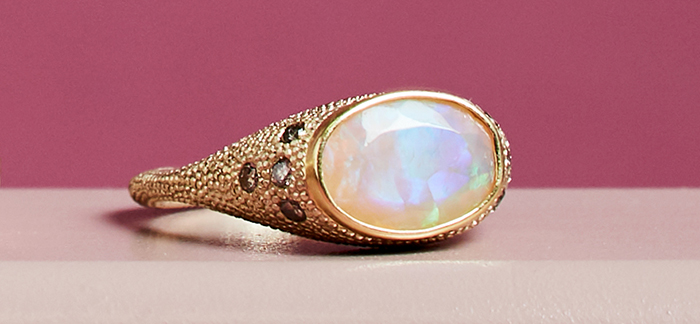 Opal Signet Ring by Elizabeth Street Jewelry
While you're busy flashing your Nine Roses cocktail ring at a party, here's your next party tidbit about opals. In 2008 scientists discovered traces of opaline hydrated silica, or common opal (opals without play-of-color flashes) on the planet Mars. This discovery may indicate that water existed on Mars, supporting the idea that Mars may have supported alien life. There you have it guys, proof that OPAL IS LIFE.  
No wonder holding a precious opal in your hands looks like you're staring into the majesty of the galaxy, because in a way, you are.